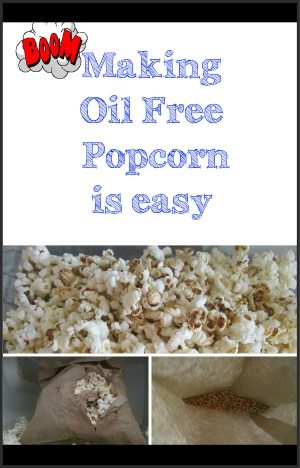 I have never been a popcorn lover. When I go to movies I cannot understand how people could eat bucket of popcorn. For me it is empty calories since I cannot feel the taste.
I do not eat with salt, or if I am cooking for someone else, I cook with minimum salt. I have done this for years, and my buds got used to the natural taste. So I could not see the point in eating salty popcorn.
So, if you would like to invite me to the movies, then I will be a cheap guest  No popcorn for me.
But life has its turns. My kids seem to love popcorn, and not sure where they got the taste from since until recently I have never done popcorn for them.
But, they have seen it at the shops, movies, and they have been to friend's houses where they ate popcorn.
I had no idea how to make popcorn, so when they asked me to get some for them, I went the easy way, and bought the already made popcorn packets.
But the packets are full of oil and they become expensive if they will eat popcorn every day for snacks.
A friend showed me how to make popcorn, but she used oil. It was easy enough.
I decided to take action and found out how to make oil free popcorn. It turns out that it was easier than what I thought. (unless you are lie me and tend to burn pots).
My first attempt was to do it on the hot plate without oil. Well to be honest my first attempt was with oil. I had an open canola oil bottle that had about two tablespoons of oil left. I was not sure how to get rid of it. I figured since my kids are not 100% oil free, I would do the popcorn with the oil.
And it was quite easy. Unfortunately I did not take photos.
Presto 04820 PopLite Hot Air Popper
West Bend 82505 Stir Crazy Popcorn Popper, 6-Quart
Wabash Valley Farms Whirley-Pop Stovetop Popcorn Popper
Cuisinart CPM-100 EasyPop Hot Air Popcorn Maker, Red
I heated the oil, pour the popcorns, put the lid on and they started to pop.
It was easy , but my pot(which was a cheap one) started to get black. Yes, only after cooking two batches.
When my oil was finished I wanted to try to cook oil free popcorn on my hot plate. And I tried, but they never popped. And the worst, I burnt my whole pot. (I did not take photos.)
But you could smell the burnt popcorn all throughout the house.
So I decided I was never going to cook popcorn on the hot plate again.
My next try was the microwave. I had a microwave steamer which I hardly used
I put the popcorn there, and set the microwave for two minutes. It came out beautifully, white popcorn.
I empty the popcorn in another container to season it, and I realized that they were lots of corn that have not popped yet.
So I put it again in the microwave for two minutes.
Big mistake. The plastic container was still hot and two additional minutes was too long.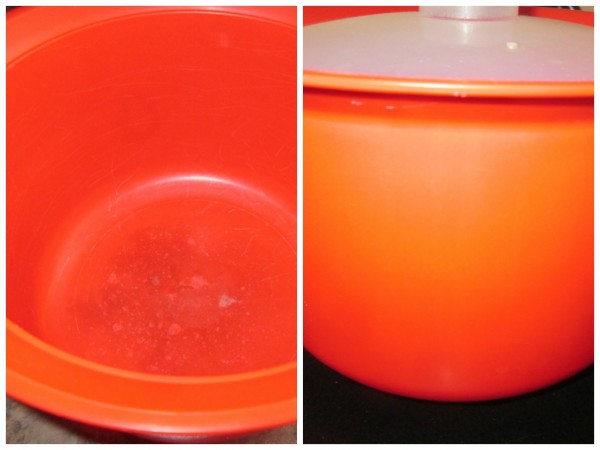 I usually prepare popcorn for the whole week, and they take it to school.
Microwave Popcorn Popper by MrLifeHack, 100% BPA FREE Best Silicone Popcorn Maker, Makes 8 Cups of Healthy Hot Air Popped Popcorn in 2 minutes or Less, Dishwasher Safe Red
Chef Rimer Microwave Popcorn Popper Sturdy Convenient Handles Healthy No Oil Silicone Red Collapsible Hot Air Movie Theater Aroma Great Popcorn Maker Machine.BPA PVC Free With Lid
Salbree Collapsible Silicone Microwave Hot Air Popcorn Popper Bowl, Blue
Green Direct GDLB-50 Perfect Brown Durable Paper Lunch Bag for All Ages (Pack of 50)
&
But whenever I do not have popcorn ready, and I am late, I do it in a brown paper bag. I just pour some corn in there, roll the mouth of the bag and put it in the microwave. I set the microwave from 1 to 2 minutes.
And it works great, except when I over do it. If I put too much corn, the bag may burst. And believe it or not, I also managed to burn some popcorn in a bag.
Oh, well It takes lots of practice to become an expert at something.
I am not an expert at popcorn yet, but my kids enjoy it oil free also.
You could also get a popcorn popper. I have not tried that. They are cheap and easy to use. and I am not sure if you can burn the popcorn there. I will need to try.
Share your popcorn making experiences.