Kitchen Cart With Granite Top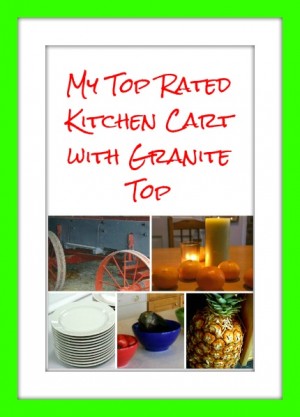 I am visualizing every day about this dream house of mine. I saw it and they are selling it. It is by the beach, on the Esplanade, and it is three floors. I may not buy it now, but I keep visualizing it
The cool part is that It has an elevator. During the visualization I see myself in the elevator, taking snacks downstairs on the kitchen cart.
Yes I visualize that every day, and I have no doubt in my mind that one day I would own my dream house and a kitchen cart
It would be great to transport meals from the playroom to the kitchen, or from the kitchen to the dining room. You can even use it to take meals to whoever is sick.
When I live in my dream house (please note that I did not say "If" but "when), I will have more than one kitchen cart. I probably have them with granite top since they are easy to clean and elegant. I would have more than one, probably one in each floor. In a three storey house, I would definitely use them daily to store things and to transport things form one floor to the next one.
I like that these kitchen carts are quite elegant with the granite top. They are easy to clean.
These carts are so versatile. You could have them in a corner with some ornaments or photographs. You could store some cutlery, glasses or plates underneath so that you always have them ready. You can transport meals, cutlery, books, or anything else that you need. You can take everything you need for your outdoor meal on the cart, and then wheel everything back in.
And do not forget you could even use this in your bathroom. If you keep your nail care, or hair care tools here, you could cart them anywhere in your house.
You may wonder why I was looking at kitchen carts when I am not yet living in my dream house. Well I was looking so I can be specific on what I would like to have. The more specific you are the more the chances of getting it.
So now that I know what is available I can visualize more in detail
The granite top gives them an elegant look, and granite is also easy to clean and very hygienic.
I like that these carts have space underneath to store things. Some of them have doors, so you can keep quite a bit inside. They come in different colors so you can match your home deco.
I love to buy some of this when I am in my dream house and I think I would buy two different ones. If you have a large house you need more than one.
My favorite is the Crosley Furniture Solid Granite Top Portable Kitchen Cart. It is small, suitable for a small kitchen and easy to move around. It also has doors and a drawer to keep things.
If you do not dream, you  never know what you can get 
Linon Kitchen Island Granite Top
Home Styles 9100-1064 Create-a-Cart 9100 Series Kitchen Cart with Black Granite Top, Cottage Oak
Crosley Furniture Newport Solid Granite Top Portable Kitchen Island in Classic Cherry Finish