Banana Pancake – Dairy and Oil Free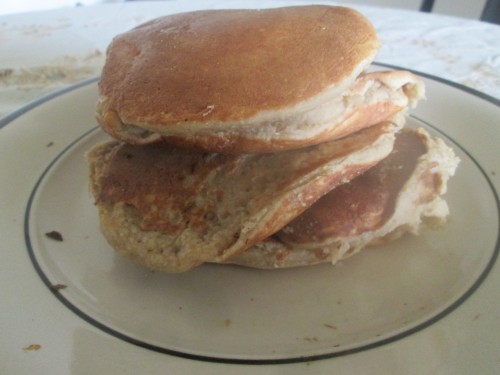 If a recipe has lots of ingredients and it will take me long time I just never get to do it. Don't get me wrong, I would love to cook all day, but there are other things to do also, and there is o much time for cooking.
My kids always asked me for pancakes and I always told them I did not know how to make them. The thought of flipping a pancake made me really nervous. I have never done it in my life.
But once I succumbed to their request. They told me I Could get the pancake mix ready and all I had to do was add water or milk (I cannot really remember any longer). So I did so, and the result was a disaster. I cannot remember at what stage I gave up. It was probably when I was cooking them.
The rest of the mix went to the dustbin, or not even sure how I got rid of it.
But then I got into eating a  plant-based diet. I heard about banana pancakes and that it was so easy to make with a blender.
So I took all the courage I needed and I ventured to do them. It was a challenge. I did not have a pancake maker. I came across a small pan which was on special and I decided I will use that.
My kids had a good laugh when I was trying to flip the pancakes. The pancakes were falling on the edge of the pan. After a couple of I got one right. Hurray!!!!
And my son absolutely loved them. He devoured them as I was making them.
My daughter, she would like them once and then not until today, when I made them again. Well, I have something to confess. My children had not given up the butter yet. So I make all these healthy pancakes and then they add vegan butter on it.
My daughter loved the pancake with vegan butter and strawberry jam.
I still have to try again the sunflower butter. I tried it once, but I gave up. I will try again, so my kids can replace that butter.
Anyway, today all pancakes were eaten between my son and my daughter.
When I did the pancakes for the first time , I Searched the internet and I found this recipe.
Nordic Ware Scandinavian Silver Dollar Pancake Pan
Oster CKSTWF2000 Belgian Waffle Maker, Stainless Steel
Gourmia GPA9515 Blini Pan With Induction Bottom Nonstick Silver Dollar Pancake Maker Features 7-Mold Design 27 cm [Diameter] x 1.35 cm [Height]
Hello Kitty Pancake Maker – Pink (APP-61209)
Perfect Pancake Maker Pan Flipjack Omelette Flip Jack Eggs Crepes As Seen On TV
Banana and Oats Pancake – Oil and Dairy Free
The recipe is simple. This is how I made it today.
1 ¼ cup old fashioned oats
½ cup  atta flour
2 tsp. baking powder
½ tsp. salt
1 ½ cups almond milk (I had some left over I needed to finish, but you can use any non-dairy milk)
2 medium frozen bananas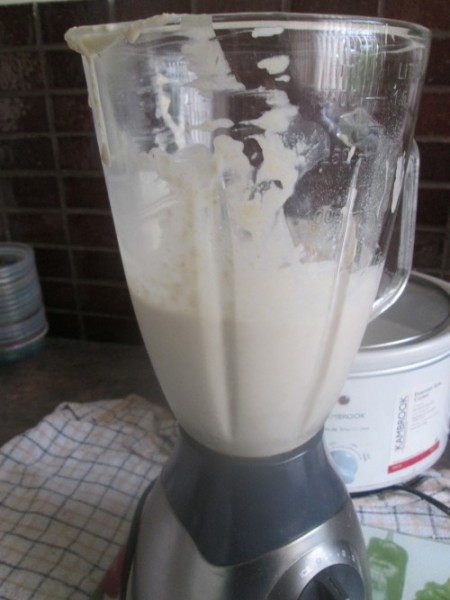 Then I put the pan on the hot plate. Let it become hot. To test if it was ready, I pour a tiny bit of water in the pan.
When it fizzles then it means is ready.
I then measure a 1/4 cup of the pancake batter  and got it ready to cook. I wished I had taken photos of when I was cooking it.
When the pancake starts bubbling, it means that is ready to flip. Next time I should make a video of this.
My first flip today was not successful. Part of the batter went somewhere else.
But in general, my pancakes came out nicely. As you can see I am not an expert making pancakes, in shapes. I am not an expert taking photos either.  I got about 8 pancakes. They come out quite fluffy.
But here is the result. And my kids enjoyed it. Ah, and the cleaning up is so easy. No oil or eggs to clean.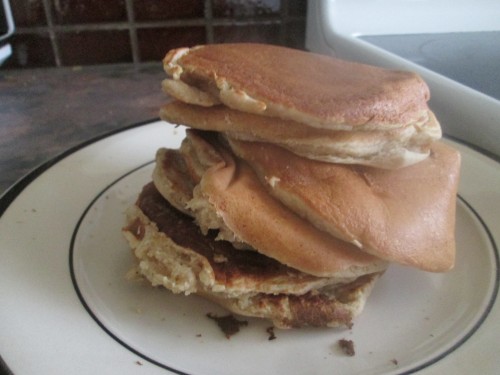 This is the first recipe I am posting on my site.
If you try them, let me know what you thought of them. My daughter had them for lunch and supper