Creamy Vegan Butternut Squash Spaguetti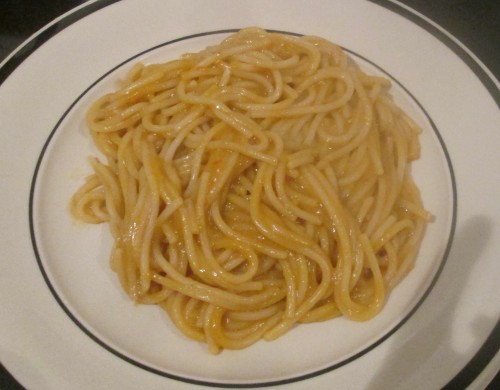 The problem I have is that my children do not like trying everything.
My daughter presents a real challenge when it comes to food. We sat last night with her supper in front of her, for two hours, and she would not eat it. I really believe it is not a matter of taste but a matter or power.
She wants to show me she has more power than me. At the end she had a banana (yes I probably gave in) and went to bed.
Very frustrating. But when I can I try new foods and my son normally eats them. He does not like all of then, but he tries and he eats them. He is quite good. Funny how things change, as my daughter was quite good as a toddler, and my son would not eat everything before.
So I so this recipe of Creamy Butternut Squash Linguine Fried Sage and I adapted it to use in my household.
I omitted the oil. I follow Dr McDougall Starch diet, and we do not eat any type of oil. I also omitted the sage for two reasons. I did not have it, and my kids would not eat it either.
It was quite easy. I used normal white pasta, but I should have used whole wheat pasta. I have not tried whole wheat pasta on my kids yet, so I went for white. I wanted them to eat it. Next time I will try it with whole wheat pasta.
I always battled peeling the butternut. It was hard, and if I could I would buy already peeled and chopped butternut. But that is more expensive. Then I heard people precook the butternut in the microwave and then peel it.
So problem solved. That is what I do from now on.
I precooked my butternut. Then I diced it and cooked it with onions and vegetable stock.
Then I precooked the butternut in the microwave. Once the butternut is precooked for ten minutes, it is easier to peel it.
I also replaced the red pepper flakes with half a red bell pepper. Yes I was trying to make it as child-friendly as possible.
I did not use any garlic, as I am not a big on garlic.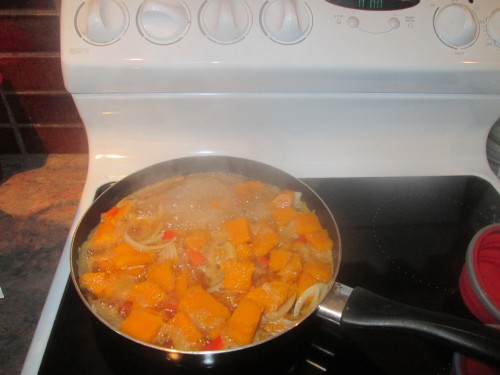 After I diced the butternut and chopped the onion and the red bell pepper, I cooked it in some vegetable broth. Then I blend it my blender The sauce was so delicious that I could have had it as soup alone. And we actually had some as soup. Too bad, because I should have mixed everything with the pasta to make it creamier.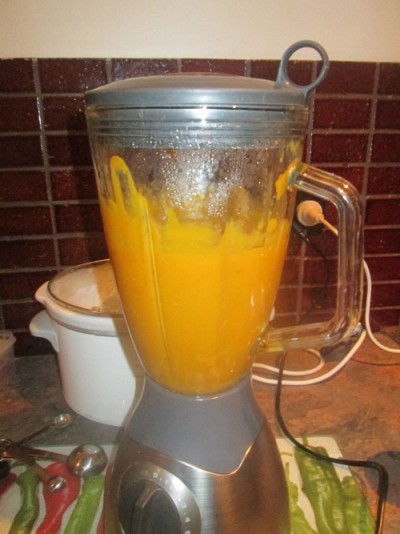 As you can see below it was really creamy, but my son says that it was not enough. The thing is that he went to the neighbour and they did some pasta with cream sauce. So perhaps he is comparing it with that, or perhaps I should have the whole sauce on the pasta.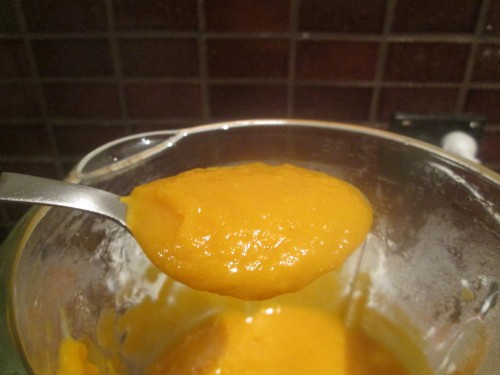 Below is the recipe that I followed.
Ingredients
1 Kg (2 pounds) of butternut squash, peeled, seeded and diced into 1/2 inches pieces (about 3 cups)
1 medium yellow onion chopped
1/2 red bell pepper cut into small pieces
1 can of butter beans
Sea salt
Freshly ground black pepper
2 cups of no oil vegetable broth
one cup of water or canned/cooked bean liquid (you can also use the pasta cooking water)
12 ounces (340 grams) of whole wheat spaghetti (you can replace with white spaghetti)
Instructions
Heat a skillet. Add butternut, onions, and red bell pepper. Season with salt and pepper. Cook for about 8 to 10 minutes, or until onion is translucent. Add broth and bring it to a boil. Reduce heat, and simmer until squash is soft and liquid is reduced by half (about 15 to 20 minutes.
Whilst the butternut is cooking, bring a large pot of salted water to boil and cook spaghetti following package directions.  When cooked, drain it. If you are not using bean liquid, keep one cup of cooking water.
Once the butternut is cooked, let it cool down slightly. Transfer the contents to the blender and blend until smooth. Add the beans and continuing blending. Season with salt and pepper.
Combine  the sauce with the pasta and 1/4 cup of cooking water or 1/4 cup of canned/cooked bean liquid. Cook over medium heat until pasta is covered in sauce (approximately 2 minutes). If needed, add more canned/cooked water.
Serve and enjoy.
Notes:
This recipe has been adapted from Creamy (vegan!) Butternut Squash Linguine with Fried Sage