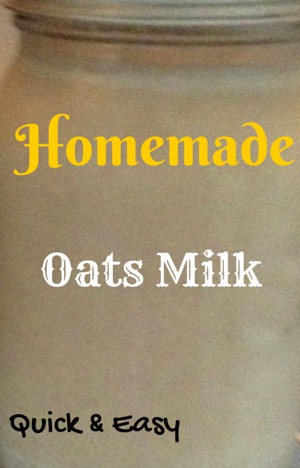 I have never been a big one to drink milk. I actually do not like it at all. It all comes form when my mother used to force me tod rink the coffee with milk. And it was hot milk. So you guess the skin formed on top and I absolutely made me gag every time I had to drink that.
I wish my mum knew what I know now. She would not have forced me to drink milk. I think by the time I was 15 I dropped the milk all together, but I never been able to drink milk again.
When I started to follow Dr McDougall plan, I wanted my children to stop drinking milk. But I was not sure how successful I was going to be. They liked their hot chocolate with milk and their cereal with milk.
Their father had taught the that you add milk to the oats. That is the reason I never got myself to eat oats in the morning. I was not prepared to add milk to it. Now I have my oats with some vegetable stock.
When the time came I decided I needed to try with oats milk. And I tried and my son liked it. For a while I bought ready made oats milk. but then I deided I would try my own.
I did get inspiration from other blogs (I think I got the idea from Oh She Glows).
But then I twisted it. It is difficult to twist it when I cannot even get myself to try it. But my son is the milk tester.
My recipes is quite sweet. My husband likes sweet. Actually, I think he thinks oats milk must replace all his sweet drinks. So here I am preparing 5 liters of oats milk every second day. Only two people in my household drink it. So they each drink about a liter a day.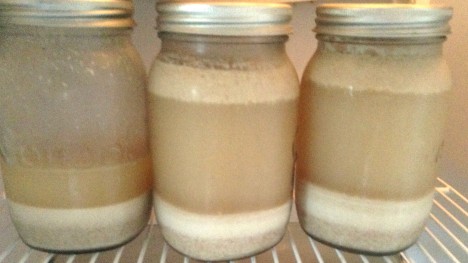 My son loves it with cereals, and sometimes he eats cereals two or three times a day. Well, he is usually looking for something to eat, and i think he prefers that rather than having a potato.
Here is my recipe:
Ingredients
1 cup of oats ( I use instant oats but you can use rolled oats)
4 cups of filtered water
1/8 tsp of vanilla extract
1/8 tsp of cinnamon
a pinch of sea salt
2 tsp of date or prune paste (loaded spoons)
Honey to taste
I know I should not add honey but my husband does like honey. So he wants it very sweet.
How to make oats milk?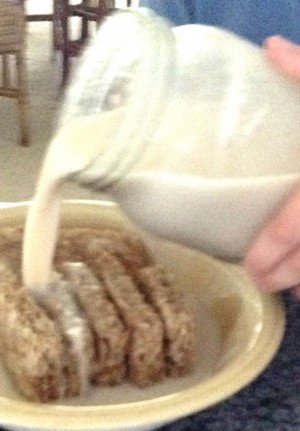 Put all ingredients  in a blender and blend it.
It is that easy. Then I store it in a mason jar. Some people will strain it through a mesh strainer or a cheesecloth. I do not do it. They just like it like this. But you could strain it if you prefer to have fine milk.
When you leave the milk aside for a while, the oats and the water will separate. But just shake the mason jar before serving the milk. I cannot say how long it would last, but mine lasted for three days. They drink everything before the end of the third day.
Quick, easy, and cheap homemade oats milk. It takes me five minutes to prepare it. It is really cheap compared to what you get at the shops. At least you what it is in there.
Have you tried making your own oats milk or any other milk?