Dairy and Egg Free Sweet Potato Bread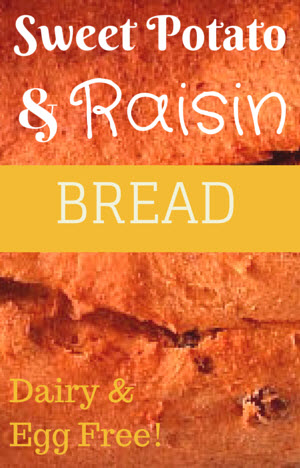 One of the things that I most struggle with to feed my family is snacks. I can eat potatoes and oat meals as snack, but my family prefers sweet snacks.
They want different things. Well they still want that piece of chocolate cake. So in my quest to find snacks for my family I came across a book, The ultimate low fat baking.
It has some lovely recipes which I needed to adapt.
The sweet potato bread caught my eye and I did it a couple of times.
I must admit that my kids did not enjoy it. Well to tell the truth they have not even tried it. My daughter refuses to eat anything I say is healthy. But other people have tried it and they enjoyed it.
Too bad that my kids do not eat it. I then end up eating the whole loaf by myself. Not good when you are trying to lose weight.
You would need to apologize me for my photographs. I need to improve that It is actually an art to photographs food.
Here is the adapted recipe: 
Ingredients:
2 1/2 cups of whole-wheat flour (you can use any other flour as well)
2 tsp baking powder
1.2 tsp salt
1 tsp ground cinnamon
1/2 tsp ground nutmeg (I sometimes omit this)
2 cups of mashed cooked sweet potatoes
1/2 cup of light brown sugar firmly packed ( I have not yet tried it with dates, but next time will do it)
3/4 cup of unsweetened apple sauce or you can use any egg replacement. I have used previously 3 Tbsp of flaxseed with water- see notes below )
1/2 cup of raisin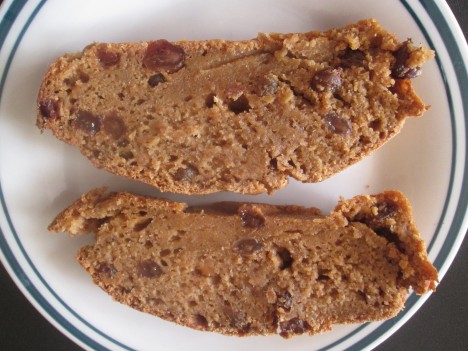 Dairy and Egg Free Sweet potato and Raisins Bread instructions
Elite Bakeware 3 Piece NonStick Bread Pan Set – Loaf Pans For Bread – Baking Pans – Bakeware Set
Silicone Bread and Loaf Pan Set of 2 Red, Nonstick, Commercial Grade Plus Bread Recipe Ebook
Tosnail Eco-friendly 10 X 5 X 3 Inch Silicone Bread Mold and Loaf Pan, Set of 2
1- Preheat oven to 350F or 180 Degree C.
2- I use a silicone loaf pan, or you can use any loaf pan. Put some parchment or non stick paper.
3- Mix the flour, cinnamon, nutmeg and baking powder all together
3- Mix with an electric mixer (I use a hand blender) the sweet potato, apple sauce or flaxseed and the sugar. Ensure that it is all well mixed.
4- Add the flour mixture and the raisins. Mix everything with a spoon
5- Pour the batter into the loaf pan.
6- Cook for one and a half hours or until you insert a knife and comes out clean.
7- Cool the bread on the pan for 15 minutes. Take bread out of pan onto a plate or wire rack. Let it cool down completely.
If you do not use apple sauce then you can use flaxseed.
Grind 3 tbsp of flaxseed and mix it with 9 tbsp of water . Basically I am replacing 3 eggs. For each egg I use a tablespoon of flaxseed. I grind the flaxseed and mix it with 3 tablespoon of water. After few minutes this will have a consistency similar to egg yolk.
Enjoy.
Let me know if you try it and  how you like it.