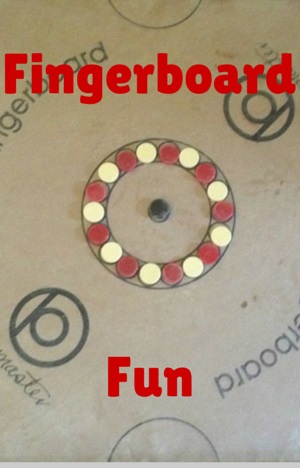 Oh, this post is not related to any plant based diet, but actually a fun activity we did..
It is always nice to find activities that do not involve electronics.
My kids love electronics and TV. They do play sports, but if they are at home they spend lots of time with electronics.
I enjoy when they play something else. And this was a great buy. Since they play and enjoy it.
Last night they played a couple of matches.  It is not the type of fingerboard game that you may think of.
I actually was not aware that there was this type of fingerboard.
This is how you play the game, but you could also watch the following video:

What we did is similar to a pool game but with your fingers.
I explain it here, but the best is that you watched the video of the match.
The game consists of a board, 19 discs and two strikers.
The game can be played by two or four players.
There are 19 discs, 9 red and 9 white and one black disc.  The discs need to be placed in the center wheel. Alternate the colors.
The black disc, called donkey, goes in the center.
Each player then gets a striker.
The aim of the game is to pocket all the discs in the pockets. There are four pockets, one in each corner.
The donkey needs to be pocketed last, after a player pockets all the discs of one color.
To start the game, the players chose the color of the discs, and chose who will strike first.
The player need to shoot from the half circle.
If a player pockets a disc, he gets another turn.
If the players pockets the striker, then he is penalized by taking one of the discs already pocketed, and placing it back on the board.
The donkey must not be pocketed before a player pockets all his discs. If he pockets the donkey before all his discs, he is penalized. IN this case he needs to take half of the discs that he has pocketed and place them back on the board.
Once the player has pocketed all the discs then he can pocket the donkey. If he does so, he will win the match.
We had great fun. I have searched  Amazon for this board and I could not find it. It is probably a local board game.
When you search for fingerboard in Amazon you get this .
If you are familiar with the game, please comment below. If you know it by another name, please also comment below. I would love to know.