Best Hand Held Food Choppers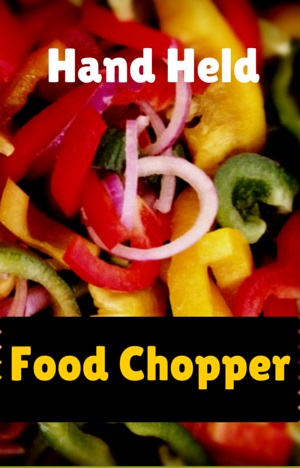 I have one of these food choppers and dicers but it is not as good as the ones below.
I bought it because it was what I found at the time and It is useful to chop vegetables. Mine does not dice them, just chops them. My chopper is quite small, but still useful.
I use my vegetable chopper all the time. I especially use it to chop onion, tomatoes and peppers. Since it is small, I have to put half an onion or half a pepper at a time. I need to cut the vegetables in quarter before putting them in the chopper. My chopper works twisting the lid and the container at the same time. I twist one hand clockwise, and the other hand anti clock wise.
I had mine for quite a while, probably ten years,. There are better options today. But I still like it.
I like that I can chop onions in 30 seconds and my hands do not smell. I use it to prepare salads or to chop vegetables when cooking. It is quicker than cutting with your knife. I rarely cut them with my knife, unless I want to chop the onions in very thin slices.
I see that some of the ones I listed below could be used for so many other things. For example, I could use the Master Slicer to prepare hummus, or to mix the salad ingredients. It is like a manual mixer. It is also large enough to chop all the vegetables for a whole salad at once.
I could use The Vegetable chef's chopper, to cut fries, or to slice potatoes, or onions, carrots. It is really nice and neat. I love when you can slice a vegetable uniformly.
I was doing some fries yesterday and I got tired of chopping with the knife, so I started looking for other ones. This would also be handy to slice fruit for my children.
I really like these ones. You can chop in different shapes, smaller or larger dices, or thicker or thinner slices. I also like the Master Slicer because it is larger than the one I have. You could prepare the salad right in there. You could use it to mix and chop at the same time. You could also store the contents in the fridge, right in the chopper bowl.
The chef vegetable dicer is great to dice vegetables in different sizes. And you can dice with just one push.
I have been tempted of buying the dicer and chopper for a long time and I think I will. But I now want to buy both of them .The chopper and dicer and the master slicer. I think I will purchase both of them at one stage.
Chef'n VeggiChop Hand-Powered Food Chopper (Arugula)
The Original Authentic MASTER SLICER Dicer Chopper Spinner for Fruits, Herbs, Salad, Onions & Foods
Vegetable and Fruit Chopper,4 IN 1,vegetable slicer and cube with Grape & Tomatoe Slicer, 1/2 & 1/4 Cut, Adjustable Slicer & Dicer With Storage Container and Non-Skid Base, By Tiabo