Glass Mixing Bowls with Lids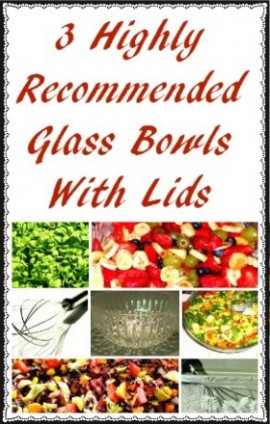 It would be super to have a glass mixing bowl that I can take from the fridge to the microwave, without having to transfer the contents.
Yes, I would not put them from the fridge straight into the microwave as they may crack. I had done that several times. But I will use them to mix things and then warm things. The great thing about them is that they have a lid so you can stack them in the fridge.
My goal is replacing my old plastic containers with glass ones. They are so much more hygienic, and they do not retain the smell of the food. They are also easier to clean.
They have so many uses. I can use them in the fridge, outside the fridge, to prepare a small salad, or to prepare several ingredients when I am busy cooking. They are great to use when preparing hummus or a quick smoothie when using a hand blender.
My favorite is the Libbey 6-1/2-Ounce Small Bowl with Plastic lid. Although they are small they are perfect for individual portions. Just fill it up with your daily portion of dessert, or hummus and stack them in the fridge.
I like that the ridges of the glass, in the Libbey bowl, prevents bowls getting stuck together. Also the ridges help you to measure things without having to pull out measurement cups.