Milk Alternatives for Whole Food Plant Based Eaters
Dairy is one of the foods that many people struggle to give up when transitioning to a whole food plant based diet.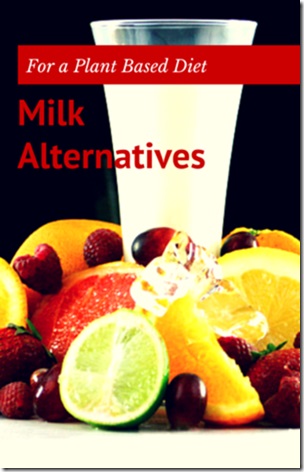 You can find dairy in most of the supermarket processed items. Everything contains some sort of dairy, cheese, milk, milk traces.
People are also used to drink their coffee or tea with milk. It is a hard habit to give up. Friends have told me they cannot give up their milk in the coffee.
Fortunately I never liked milk. Yes I had to give up cheese, but it was not as difficult as giving up chocolate. By the way, chocolate has milk, even the darkest chocolate may have some traces of milk.
My children had a hard time giving up dairy and they are still consuming some dairy, but in most days they have non-dairy milk.
Before switching to non-dairy milk, my kids had their cereal with milk and they also used to drink hot chocolate with milk. They did not drink any juices, so their hot chocolate was like their daily treat. I was concerned because I thought I would encounter some resistance from them.
One day I bought almond milk and let them try it. They did not like it. Nex,  I tried with oats milk. My son loved it, but my daughter was not happy about it.
After much thinking, I tried with soy chocolate milk. I was surprised when my daughter liked it. After a while, I started buying the regular soy milk and she seems content.
I offered them again almond milk, chocolate almond milk, and this time they seemed to like it.
Recently I started doing my own oat milk. I was a bit reluctant to do it before because it seems that my kids enjoy everything that is bought from the store, but as soon as I try to do it myself they find something wrong (maybe it is wrong, I am not the greatest of the cook). But my son enjoyed the homemade oat milk.
I have not tried preparing soya milk. My daughter is still having soya milk. I know the one I buy contains some vegetable oil and sugar, but I am hoping with time she will transition to better choices (you can read about the struggles I have with my daughter).
So milk is everywhere, and how do you cook without milk. I never drank milk, but I used it in cooking when a recipe called for it. How do you replace it.?
For baking and dessert, I will replace the milk with a non-dairy milk, usually whatever milk I have handy.
For savory recipes, I prefer to replace milk with vegetable broth or with water.
You can prepare your own vegetable stock or broth, or you can buy the Vegetable Soup & seasoning base.
Non-Dairy Milk Alternatives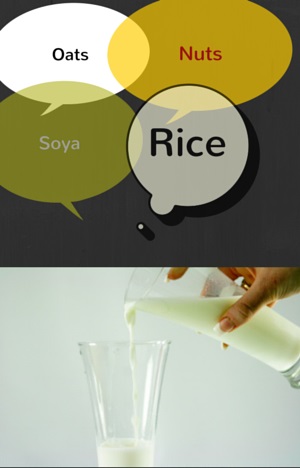 Oats milk: It is creamy and sweet. It has a mild flavor. As a bonus, oats milk helps lowering cholesterol levels. It is good for drinking,, cooking, baking, with cereals, and with coffee. It is very easy to prepare at home. Just blend some oats with water and sweeten it with dates, prunes, or any other sweetener.
.
Almond milk: It is creamy and nutty. It is high in antioxidants and low in calories. It is cholesterol free. It can be used for coffee, tea, baking or drinking straight from the glass. It can come in several flavors like plain, unsweetened, sweetened, vanilla chocolate and strawberry. It is also quite simple to make at home. Just soak some almonds overnight and then blend them with water. You can sweeten it with dates, prunes, honey or any other sweetener.
Rice milk: Rice milk has a thin consistency and a sweet flavor . It is loaded with carbs. It is good for eating your cereals, cooking. Some people think is also good for coffee because of the sweetness. It is quite easy to prepare at home. Boil some rice and the blend the rice with water.
Cashew milk: Cashew milk is quite creamy, nutty and sweet. It can be used for cooking, baking, and desserts. Like the almond milk is quite easy to prepare at home.
Banana milk: Banana milk can not be purchased at the stores. It is quite easy to prepare with water and banana. It is great over your cereals or as a drink. You can find the recipe at Potato Strong.
Coconut milk It is creamy and smooth. It is great for smoothies, hot drinks cooking, curries. Ready made coconut milk may have some additives, so make sure you read the ingredients. It is also easy to prepare at home from unsweetened coconut flakes.
Quinoa milk: You can purchase quinoa milk at your health shop and even in supermarkets. Quinoa milk is rich in proteins. You can use for cereals, smoothies and drink from the glass.
Other nut milk: You can experience preparing other nut milks, like macadonia, pistachio or peanuts milk.
There are no shortages of options to replace your milk, if you need to. As aid I use milk when I have no other option. But other than that it is not something that I feel I need to have.
RICE DREAM Classic Original Organic Rice Drink, 32 Fluid Ounce (Pack of 12)
Pacific Foods Organic Coconut Non-Dairy Beverage, Unsweetened Vanilla, 32-Ounce, (Pack of 12)
Pacific Foods Organic Oat Non-Dairy Beverage, Original, Low Fat, 32-Ounce
Milkadamia Original, Macadamia Milk, 32 Ounce (Pack of 6)
Pacific Foods Organic Almond Non-Dairy Beverage, Unsweetened Original, 32-Ounce, (Pack of 12)
Suzie's Quinoa Milk – Unsweetened Vanilla – 32 oz
Silk Unsweetened Organic Soymilk, 32-Ounce Aseptic Cartons (Pack of 6)
Sources
http://www.kidswithfoodallergies.org/resourcespre.php?id=103
http://www.goodfood.com.au/
http://lifehacker.com/what-is-the-best-alternative-to-milk-1479430034