Nutri Ninja Auto IQ (BL480, BL481 and BL482)
I recently reviewed the Nutri Ninja Pro, and the Nutribullet. Today I will be reviewing the Nutri Ninja Auto IQ which is an upgrade from the Nutri Ninja Pro.
I am also excited, because until now I have only reviewed blenders under $100. This will be my first blender over $100. But in reality there is no much difference in price between the two.
Nutri Ninja Pro was the actual competition of the Nutribullet. WIth the Nutri NInja Pro you have to press the cup for it to blend. If you do not press the cup. the blending stops.
With the Nutri Ninja Auto IQ, you do not need to press the cup. You can make use of the AUTO IQ system which is an automatic system. Just by pressing one button the Ninja will do all the work for you. Press the desired AUTO IQ function, and the blender will pulse, blend and stop for a couple of seconds. Then it will start the process again. The total process lasts 60 seconds or less.
So you actually can press the button and continue doing other things in the kitchen. When the blender finishes processing, it will stop automatically.
The Nutri Ninja Auto IQ is also a bit more powerful. It come with a 1000w motor instead of a 900w motor.
The Nutri Ninja Auto IQ also comes with 3 cup sizes, and the largest is 32 oz.
Read the Rest of the Review Below:

The Nutri Ninja AUTO IQ is a personal blender, IT is exactly the same as the Nutri Ninja, but it comes with 3 cups, that you can use to blend, and then take with you wherever you go. It is quite powerful and it comes with an AUTO IQ system that will do the work for you.
The Nutri Ninja AUTO IQ is hands free, as opposed to the Nutri Ninja Pro which you needed to hold. SO the BL480 series is similar to the Nutribullet., but more powerful.
The rest of the features of the Nutri Ninja Auto IQ are similar to the Nutri Ninja Pro.
I must say that Ninja has come out with a couple of blenders with the Auto IQ technology. The Nutri Ninja is a personal blender. The other ones are a counter top blender.
Nutri Ninja Auto IQ is not a juicer, but a nutrient extractor. It just blends all the contents, including the fiber. It actually does a good job blending the fruits and vegetables. You cannot feel the pulp of the fruit, and even people have commented that you cannot feel the blackberry seeds.
Just a warning , that parts and accessories are not interchangeable with other Ninja models, but you can use the cups with the Nutri Ninja Pro.
There are two versions of the Nutri Ninja Auto IQ
The Nutri Ninja Auto IQ BL481
The Nutri Ninja Auto IQ BL482.
The difference between the two is an extra recipe book .
The Nutri Ninja Auto IQ comes with
1000 Watt motor base
18 oz. Nutri Ninja® Cup
24 oz. Nutri Ninja® Cup
32 oz. Nutri Ninja® Cup
3 Sip & Seal™ Lids
Pro Extractor Blades™
Rachel Beller Healthy Living & Recipe Book (Eat to Lose, Eat to Win)
If you need more recipes, there are plenty of free recipes online.
In a hurry? Find Nutri Ninja Auto IQ here
Versatility / Functionality
TheNutri Ninja Auto IQ is simple to operate. There are some buttons you can press to get the blender to work for you. Otherwise, you can also press the pulse button and it will work like the normal blender. But you will need to continue pressing the pulse button for it to work. So instead of pressing on the cup, you just press the pulse button.
Otherwise, you can just press the Blend or Ultra Blend buttons for the blender to blend without you having to do any work. When you press the blend buttons the blender will blend by itself. IT will pulse, blend for a while and then it will stop few seconds before starting again.
Nutri Ninja Pro Review
As mentioned above the Nutri Ninja is not a juicer, but they call it a vitamins and nutrient extractor. In simple words it pulverizes the fruits, vegetables, nuts and seeds and combines it into a smooth drink. The longer you pulse the smoother and finer the drink.
The McDougall program does not recommend smoothies, but sometimes it is the only way to get your kids to eat vegetables and fruits. You can also use the blender to prepare sauces, dips , chopping, vegetables, blending and crushing ice or frozen fruits and vegetables.
The manufacturer claims the Nutri Ninja is good for :
– smoothies
– Green smoothies
– Shakes
– Frozen drinks
– Crushing ice-
– Soups – Prepare soup with cold water. Then transfer soup to a pot or microwave safe container to make it hot. Or prepare soup first, let it cool down and then blend. Do not pour hot liquids to the Nutri Ninja
– Chopping
– Mixing
– Dressings and sauces
– Dips
– desserts, blending frozen fruit into ice creams.
– Blender will grind but the result cannot be compared against the result of a dedicated grinder.
This blender will not do nut butters
From the manual this is what the manufacturer says
Welcome to the Ninja® AUTO-iQ™ Experience! The Nutri Ninja® with AUTO-iQ™ features pre-programmed
settings that take the guesswork out of drink and meal making. These programs are timed to deliver
consistent, delicious results that finish on their own so all you have to do is press a button and enjoy!
Like all personal blenders, the Nutri Ninja AUTO IQ is very convenient. It is easy to use and clean. Buttons are simple to use. You can use the cup as a drinking cup or pour the mix into another drinking cup.
Same as with the Pro version, the The Nutri Ninja Auto IQ needs liquid to function. The cups also have a max line which indicates that you should fill the ingredients up to the maximum line. If you fill more than the max line then the cup may leak.
There were some complaints of people saying that the unit leaks. Perhaps they overfilled the cup. Some reviews also mentioned that the sip and seal lid does also leak. This could be a problem You need to ensure that you always carry it in a vertical position or that you pour the contents into your own container.
Nut butters in general are prepared with dry ingredients, the Nutri Ninja cannot handle it, unless you add some honey. But if you prefer just pure nut butter (no other ingredient) , then this blender will not serve that purpose.
The Nutri Ninja Auto IQ Jar
The Nutri Ninja AUTO IQ comes with three BPA free plastic cups.
In the standard version you get
1x short cups size: 18 oz (0.53 liters) – used mainly for grinding, chopping and preparing food. This one is too small for smoothies.
1 x long cup size: 24 oz (0.70 liters) – used for smoothies, salsas, dips, mixing.
1 x extra long cup size 32 oz (0.94 liters) used for smoothies, salsas, dips, mixing.
The cups come with Sip & seal lids. The lids can be used to take your drink away.
Cups fit in a regular car cup holder.So you can prepare your drink, go out the door, and take the drink with you.
The cups are NOT microwave safe. All cups and lids are dishwasher safe on the top rack of the dishwasher.
You can always buy extra lids and extra cups. Check the accessories section.
Cups are interchangeable with the Nutri Ninja Pro.
The cups have a maximum line. You should never fill up the cup above this maximum line. The jars comes with the measurement lines.
The Nutri Ninja cups have little tabs at the top of the cup/mug that lock into the motor base. If those tabs break, you will need to replace the cup.
Motor Power
The motor is very powerful, it has 1000 watts.
The motor is a bit noisy but not noisier than a normal blender.
The unit comes with polarized plugs. This means that one blade in the plug is wider than the other one. If it does not fit in your plug turn it around and try again. It will only fit one way. If it does not fit at all, you need to contact an electrician to adapt your plug
Blender Controls
The Nutri Ninja AUTO IQ comes with 4 buttons and a timer.
A START/STOP button: When you press this button the blender will start running and will only stop when you press button again. The timer counts up by seconds up to 60 seconds.
A PULSE button: When you press this it will pulse. Do short presses for short pulses. The timer will count up by seconds as long as the button is pressed down.
AUTO IQ BLEND button: This will pulse and blend creating smooth and consistent results. Just press the button and automatically will pulse, blend and then stop for some seconds and start again. The timer counts down from 60 seconds.
AUTO-iQ ULTRA BLEND, it acts the same as the AUTO IQ BLEND button but it is for frozen, fibrous or hard ingredients. The time also counts down from 60 seconds.
The Nutri NInja AUTO IQ is hands free.
Blades
The Nutri Ninja Auto IQ comes with the same set of blades as the Nutri Ninja Pro. It does not come with a flat blade.
The blade has four prongs on it. Two of them face upwards, and two downwards.
It is a powerful, thick blade, engineered to break down fruit and vegetables.
There are not any rubber or plastic gaskets to seal the blades. If your unit leaks then you need to check that you have screwed the blades correctly and that you have not overfilled the cup.
The blades are made of a high-quality stainless steel and they are rust-proof.
Ease of Cleaning
Cleaning the Nutri Ninja AUTO IQ is very easy.
Same as with the Nutri Ninja Pro, all cups , lids and blades are dishwasher safe. Place them on the top rack of the dishwasher.
If you clean your Nutri Ninja as soon as possible then cleaning is a breeze. .
The easiest and recommended way of cleaning it is to fill up the cup with luke warm water, add a drop of dishwashing liquid and a drop of white vinegar. Twist the blades on the cup and then pulse it for 30 seconds. It will quickly get clean.
Do not submerge the motor base in water. Just wipe it with a dump cloth after every use.
Overall this blender is very easy to clean. .
https://youtu.be/RZP_Bf9x6Rs
Attachments
For some accessories and attachments click here.
There are three version of the Nutri Ninja AUTO IQ. Here is a table indicating the differences. Table taken from the manufacturer website.
BL480
BL481
Bl482
Wattage
1000w
1000w
1000w
18 oz cup
yes
yes
yes
24 oz cup
yes
yes
yes
32 oz cup
no
yes
yes
Pro extractor blades
yes
yes
yes
Sip and Seall lids
2
3
3
Inspiration guide
yes
yes
yes
Rachel Beller 3 day Jump Start Plan
yes
yes
yes
Rachel Beller's book
Eat to Lose, Eat to Win
no
no
yes
The Nutri Ninja Auto IQ – Dimensions and storage
The dimensions for this blender are not specified in the manual, but according to reviewers the base measures 6×6 inches. . It is small enough to fit on your counter.
The base comes with suction cups on the bottom to keep the blender secure whilst running. Even though it comes with suction cups, the blender jumps a bit when running.
Power is 110 volts but by getting a converter you could use it with 240 volts
The power cord is pretty short, just 2 feet (60.96 cm)
Features:
The unit is to be used with 120 volts
The product carries a one year warranty.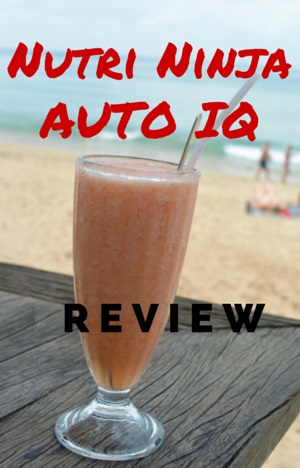 Accessories
Replacement parts are easily available through the Nutri Ninja website. You can easily get cups in 12oz, 18 oz, 24 oz or 32 oz. Extra lids and extra blades are also available at the manufacturer site.
if you want to use your cup as a shaker, you can purchase a shaker lid, a silicone grip sleeve and the Nutri Ninja guide to Nutritional Goodness.
Superfood Smoothies: 100 Delicious, Energizing & Nutrient-dense Recipes
Smoothies for Weight Loss: 37 Delicious Smoothies That Crush Cravings, Fight Fat, And Keep You Thin (Smoothie Recipes – Green Smoothies – Fat Loss – Smoothie Recipes – Diet)
Vegan Joy Box Set (4 in 1) : Over 150 One-Dish Vegan Meals, Healthy Dips, Smoothies and Quick Vegan Recipes (Vegan Lifestyle)
Pros
Easy to assemble

Hands Free

Portable compact and convenient.
Easy to use.

Powerful. Great blending power

Great job breaking down pulp, seeds and nuts.
Good blending performance, super fast and smooth results.
It is small enough to leave on your counter top

Very easy to clean.

Dishwasher safe (not the power base).

Durable BPA free containers

You can blend and serve in same container.
It can be used as a personal blender.
Can prepare customized drink for each person.
Can be used to prepare soups and dips.
Does a great job of breaking the cellular wall for increased nutrition.
Great job at crushing ice
Parts and accessories are readily available.
Can prepare customized drink for each person.

Great for grinding coffee, spices, grains and seeds.

Can be used to prepare soups and dips.

Parts and accessories are readily available

The cups fit in standard cup holders.
Cons
The ridges of the cup can catch some of the ingredients.
The cup can be hard to close
The cup can leak (though this might be due to overfilling the cup)
The Sip & seal leads need to be redesigned. They can leak.
It may heat nuts and seeds when blending them.
It needs liquid to blend.
It cannot really prepare nut butters with it.
Noisy
It jumps around across the counter top. Be careful when walking away.
It needs space to store parts and accessories.

Single serving machine, not for large family.

You cannot put the whole fruit or vegetable in the cup. You need to prepare fruit cutting it in small pieces and feeding it in certain order.
If you intend to use it as a juicer, the juice is watered down, since you need to add water to process it.
Plastic containers can easily break.
If the plastic nubs that are used to lock the container break off, then the container becomes useless.
Nutri Ninja Consumer Ratings
This product is very popular with a rating of .4, 87% of the ratings were 4 and 5 stars. This indicates that people are really happy with it.
Of course, there is always the people that do not like the product or do not see the benefits of it.
Nutri Ninja Price
This is not the cheapest of the blenders, but compared against high end blenders is quite affordable. It seems like the price has come down since the release of this product.
There will always be cheaper blenders than this one, but it all depends on what you want to get out of a blender.
You also need to consider the durability of this item. It looks a strong unit, but it is relatively new, so I cannot say much about durability. But due to the low price the risk is minimum.
My overall opinion
I really liked this product. It seems to do a great job of blending. I would certainly go for this type of blender if I could not afford a high end blender. It is powerful and convenient to use for dips, salsas, sauces and grinding. It is also great for smoothies.
If you travel a lot and want to take the blender with you, this would be an ideal companion. Remember always to consider what you want to use your blender for. That will tell you if this is the right blender for you.
If I already had a powerful blender I would not consider this one, unless I was looking for something quick to use, when I feel lazy to get the big blender out.
Overall I like this blender, and I would definitely consider getting one for myself. The price difference between this blender and the Nutra Ninja Pro is not huge, so I would rather get this one.
This will be a great blender if:
• You currently do not have a good blender and do not want to pay a high price for one.
• If you are not a perfectionist.
• If you drink smoothies often.
• If you prepare lots of dips and sauces.
• If you travel often and like to have daily smoothies.
There are many people that are very satisfied with this unit. As said this unit is relatively new, and we do not know the durability of it. But Ninja has some very high quality products, so I am trusting this one is one of them.