KitchenAid KSB1575ER 5-Speed Diamond Blender Review
Today I will be reviewing the KitchenAid KSB1575ER 5-Speed Diamond Blender.
When it comes to kitchen small appliances KitchenAid, is one of the well known brands for having good, quality appliances. And this applies to the blenders as well. KitchenAid has been manufacturing blenders for ages, and many people still have their first KitchenAId blender, because even after decades it still works.
I decided to review the KitchenAid KSB1575ER 5-Speed Diamond Blender after watching a video where they compared this blender with some of the top blenders in the market. I got quite excited about it, because it is a powerful blender at a reasonable price.
This blender can be very handy to prepare smoothies, crush ice, hot soups, dips, salsas or salad dressings.
This blender although powerful, it is not as powerful as the most expensive blenders. But It can achieve almost the same. The motor has only 670 watts. It has been compared to the most expensive blender and in some aspects it has performed better than the most expensive counterparts
If you love KitchenAid and you do not want to spend lots of money on a blender, this blender could be a good appliance to get in your kitchen
Read the Rest of the Review Below:

Let's look at what comes n the box:
KitchenAid KSB1575ER 5-Speed Diamond Blender
670 Watts, 9 HP Motor Base.
60oz Pitcher with 4 prong blades.
Pitcher lid with ingredients cup.
Instruction manual
Features
These are the features of the KitchenAid KSB1575ER 5-Speed Diamond Blender.
Diamond Blending System.
Intelli-Speed Motor Control.
5 Speeds/Crush Ice/Pulse Mode.
Soft Start Feature.
Stainless steel blades.
60 oz BPA free jar.
Easy to clean and dishwasher safe.
1 year limited warranty
Versatility / Functionality
It can be confusing to choose a blender because of the many options available. I always advise before researching and purchasing a blender know what you will use the blender for. Some blenders are really inexpensive but they might not have all the functionalities you are wanting.
If you do not know what you want to use the blender for then the selection process can become overwhelming.
It is also good to have an idea of the budget you want to spend on a blender.
The KitchenAid 5 Speed Diamond blender is great for people that have a medium budget, between 100-200. and want a powerful blender.
This blender like any other KitchenAid appliance is a sleek and beautiful blender that comes in 14 different colors:
White, cranberry, cobalt blue , pink, watermelon, tangerine, espresso, empire red, methallic chrome, boysenberry, contour silver, crystal blue, grape purple, green apple, liquid graphite, majestic yellow, onyx black and raspberry ice.
Certainly there are quite a variety of colors that can match your kitchen decoration.
Each color has a different code. For example the Empire red has the code KSB1575ER, which is the one I am reviewing now. All the other colors have the exact same features. The only thing it changes is the color and the code.
The Diamond Blending system ensures that all ingredients get blended quickly and smoothly.
The KicthenAid 5-speed does the job very well. It pull all ingredients down in the vortex and can process all of them quickly and without much effort.
Watch the video below and you will see that the KitchenAid does not have a problem blending a whole orange (with the skin) and an entire apple with the core . In the same video the most expensive blenders like the Vitamix and Blendtec took longer or they needed a bit of help.
This does not mean that he KitchenAId is more powerful than them. But when it comes to smoothies, this is very powerful.
The KitchenAid KSB1575ER has two distinct features. The first one is the soft start feature. This means that the motor starts slowly with every function. This way it can pull all ingredients down to the vortex. Then it quickly increases to the selected speed.
The second feature of this blender is the Intelli-Speed motor control. This control senses the amount of food in the blender and adjusts the speed accordingly for optimal performance.
This blender has different functions and it is great for chopping, stirring, mixing, puréeing and liquefying.
I spoke to the manufacturer and they told me that it is not recommended to process nuts in any of their blenders. They advise to use food processors to process nuts. But I have read reviews of people that have made nut butters with it.
The best function are ice crushing, juices (with pulp) and smoothies. You can blend carrots, celery, beets, and frozen fruit.
The KItchenAid is great for hot foods, like soup. When processing hot foods, remove the ingredients cup and cover it with a towel Use the Stir function for this. The blender will pull out ingredients down to the vortex and be able to process the food.
The blender blades cannot come off, but it is easy to clean.
The blender has 5 speeds,: stir, chop, mix, puree and liquefy. It also has a pulse button and ice crushing button.
This blender has many features of the big blenders but at a quarter of the price. So if you were not prepared to spend a large budget on the Blendtec or Vitamix, you could purchase this blender. Remember that the manufacturer does not advise to process nuts in it.
This blender is good for:
Shakes, smoothies, green smoothies.
Frozen fruit smoothies.
Crushing ice.
Soups (it does not heat the soup).
Puree.
Chopping vegetables.
Pulverize a great variety of fruits and vegetables.
Some reviewers said that the only function that works great is the smoothie one (liquifying). But most people are very happy with this blender and they would not change it for any other one.
KitchenAid KSB1575ER 5-Speed Diamond Blender Jar
This KitchenAid model comes with a BPA free jar. Yes there is no glass pitcher like the old blenders, but at least the jar is lighter.
The jar capacity is 60oz and measurements are marked.
The lid comes with a lid and an ingredients cup. The lid fits quite tightly over the spout as well. if it does not fit tightly make sure to remove it and place it again.
The pitcher is shatter-, scratch- and stain-resistant. It is dishwasher safe but you can also clean it very easily without using a dishwasher.
The blades are permanently attached to jar.
To place the pitcher on the base you need to Align the pitcher tabs with the slots on the base. Rotate pitcher clockwise, until it cocks into place. The handle of the jar can stay on the right or the left.
.
Motor Power
The KitchenAid 5 speed Diamond Blender comes with 670 Watts and 9 HP motor. I realize that is less powerful than the expensive blenders, but it is still powerful enough for basic things like smoothie making, crushing ice, chopping fruit and vegetables, and making finer crumbs.
There are two features that the KitchenAid Diamond blender has. The Slow start feature. This means that for every function the motor will start at a low speed, and then it will increase to the selected speed once it has brought the ingredients down to the vortex
The next feature is the Intelli-Speed motor control. This means that the motor will sense the amount of ingredients in the blender jar, and then adjust the speed accordingly to get the best performance out of it.
The coupling, where the motor joins the jar is steel reinforced.
Blender Controls
The KitchenAid KSB1575ER 5-Speed Diamond Blender comes with 5 speeds: stir, chop, mix, pure, liquefy. In addition it has the ice crush button, pulse button and the power button. .
To make it work press the power button and the light will flash when ready. Then select desired speed, for continuous operation at that speed.
You can select the speed you want and then press the pulse button. The unit will pulse at that speed. You can then change the speed by selecting another one.
The soft start feature works with the speeds, but it does not work with the pulse or ice crushing option. The soft start feature makes the blender start at a slow pace, and increase the speed quickly once all the ingredients have been drawn to the vortex.
Blades
The KitchenAid comes with 4 prong stainless steel blades. The blades are permanently attached to the jar.
Ease of Cleaning
The KitchenAid is very easy to clean. It can be washed in the dishwasher. But it is also easy to clean by hand. Just fill up half the pitcher with warm water (not hot) and add two drops of dishwasher liquid. Run the Stir cycle for 5 to 10 seconds. Rinse with warm water.
Wipe the base with a warm cloth, and dry it.
Attachments
There are no accessories or attachments for this blender. You can get replacement parts form manufacturer site.
KitchenAid KSB1575ER 5-Speed Diamond Blender Dimensions and storage
Dimensions 18″ Height, 9″ Width, 7″ Depth
Weight 12 lbs
Warranty: One year limited warranty.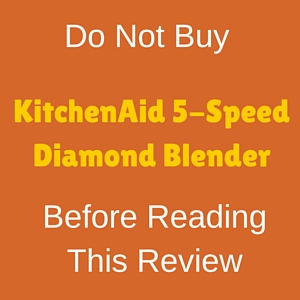 Pros
Price.
Easy to use.
Pre-programmed options.
Control over the speed.
Intelli-Speed.
Soft Start feature.
Many colors available.
Good blending performance for soft ingredients and liquids
Cons
It is a bit loud.
Plastic container.
Does not process nuts.
Not as powerful as higher end blenders
KitchenAid KSB1575ER 5-Speed Diamond Blender Consumer Ratings
Although this blender has a 4.5 star rating in Amazon, I will rate it at a 4.2. The reason for this is that it is not recommended to process nuts. I will want a blender that can process nuts and can grind. Lots of recipes in a whole food plant based diet require grinding or processing nuts.
If you have a food processor that can handle the nuts, then this blender will be great for you. You do not need a high end blender. But if you do not own a food processor and you are looking for one appliance that does everything, then this blender will not really suit you.
Having said that, it is a great blender at a reasonable price and a good name. It produces smooth drinks and soups. So provided you are not wanting to process nuts, then this could be a good option for you.
.
The blender has many positives reviews in Amazon.. People were very happy with this blender. Of course there are people that had bad experiences with it or did not like it. .
KitchenAid KSB1575ER 5-Speed Diamond Blender Price
The price of this blender is quite affordable compared to the higher end blenders. It is also not the cheapest blender in the market.
You can also get free shipping from Amazon.com
My overall opinion
Based on the reviews I researched this is a great blender. If you already own a food processor or you do not want to process nuts then this is a great blender. Bear in mind that even though the video demonstrated that can blend an orange quicker than the Vitamix and the Blendtec, the motor is less powerful than those blenders.
If you do not want to spend a large sum in a blender, and you are happy with this blender limitations, then this is a great blender to have. You can also consider other options like the Nutri Ninja Auto IQ or Nutribullet.
As always, it depends on what you are using the blender for.
You can read my other reviews like the Blendtec review and the Ninja Professional to find something that matches your needs. For cheaper options I recommend Hamilton Beach 58148 Power Elite Multi-Function Blender.

KitchenAid KFP1133ER 11-Cup Food Processor with Exact Slice System – Empire Red
KitchenAid Prep Bowls Set of 4 Red
KitchenAid KHM7210ER 7-Speed Digital Hand Mixer with Turbo Beater II Accessories and Pro Whisk – Empire Red