Hamilton Beach Personal Blender 51101 Review

When I set myself to review the Hamilton Beach Personal Blender 51101 I did not realize this model was such a best seller. Who would not think twice of buying it as such a low price?
Before buying this you will need to be clear on what you need a blender for. This is a great little blender for easy tasks, but it cannot do everything that a $100 blender does. You can easily have it for daily use, and have a more expensive one for the bigger tasks.
One thing is for sure, the price is very low and the blender is very simple to use.
This personal blender is the model 51101 Single Server Blender with travel lid per Hamilton Beach site. As the name say it, it is a single serving blender. You make your drink, pick up the jar and take it with you. This compact, versatile, lightweight, easy to store and easy to use blender can be taken as a drink cup and place in the car drink holder.
The unit is very light; approximately 1.5 to 2 pounds and you could take it on any trip with you so you do not need to stop drinking your smoothies or shake. You will need a portable voltage converter depending on where you are travelling.
Read the Rest of the Review Below:

This blender can be useful to prepare a variety of things (you may or may not consume all of them, but I am just listing them here): smoothies, dips, salad dressing, cold soups, baby food, protein shakes and grinding some flaxseeds and coffee.
Here is the list of what comes in the box:
A Base with cord and a pulse switch
A 14 oz BPA free plastic jar with cutting blades with permanent gasket
A drinking lid
Instructions manual
Versatility / Functionality
This little blender is very versatile and can be used to make smoothies, shakes, marinades, salad dressing, dips, baby formula or baby food. It is best to blend soft ingredients.
To get the best of this blender, you need to add liquids first. If you are not blending any liquid add water, then your soft ingredients, then the frozen ingredients and then the ice. When adding frozen fruit or ice, make sure you add them in small pieces and in small amounts at a time.
I researched the reviews of this model and I found out that there are some mixed feelings about how well this blender handles ice. Some consumers had no problems and others said it would not crush ice or frozen fruit at all. The manufacturer says the unit will handle ice, but you need to have lots of liquids and feed the ice in small pieces.
Here is what you need to understand when it comes to a blender's ability to crush ice. Not all ice is the same, right? Have you ever had a freezer that made really solid, thick ice and then had a different freezer that did not make ice that was as hard? Or, have you purchased ice at the store and realized it's not the same shape as the ice your refrigerator makes? Everyone has different ice cube sizes and consistencies that they're working with so while this blender can crush ice it might struggle with very large ice cubes or those that are extremely hard. If you only have large cubes available because of your refrigerator then this one might have some issues working through those ice cubes.
An alternative to ice cubes is to use frozen fruit as this blender does seem to handle those just fine.
There are some ingredients that this blender cannot handle. According to the manufacturer the blender does not handle any of the following: (not if you try to process any of these ingredients you might risk damaging the unit):
Any hot substance
Cheese
Crackers
Meat/grinding meat
Potatoes
Dough
Egg whites
Extracting juice from fruits and vegetables
Any thick ingredients
This personal blender is ideal for people on the go. Do your smoothie and take the jar with you. Yes, you can use the jar as a drinking cup.
If you travel a bit and you use your blender daily, then you will have company. The Hamilton Beach personal blender has to go with you. Many travelers give up the daily smoothie when they are on the road, or travelling by air, as hotels do not often have blenders. But you can easily take this blender with you wherever you go and make your daily smoothie or salad dressing.
If you follow a fat free plant based diet you know how difficult is to order food at a restaurant. With this blender you will have no excuses. Prepare your favorite fat free salad dressing before leaving the hotel or your home, take the jar with you to the restaurant, order a salad, pour the salad dressing on it and voila. Problem solved.
When travelling overseas you need to take into account the voltage of the country you are visiting. This blender works only with 120 voltage. The reviews said you could get a portable voltage converter to use it with 240v. I wanted to confirm this and I contacted the manufacturer. They told me not to use a voltage converter as it may damage the unit. So to be safe rather use this only with 120 voltage.
When it comes to grinding The Hamilton Beach Personal blender can also be used to grind coffee but only up to 12 tablespoons
Looking at the price this is very affordable, and is expected that it will not perform all functions of an expensive blender.
The results of the blending process will depend on the input. If you add softer and smaller pieces you will be able to get a smooth drink. I would not try to blend green thick vegetables like spinach or kale, but I would definitely use it for salad dressings, cold soups (yes they are delicious) and some soft dips, like avocado dips.
For me, this would be ideal for salad dressings. I normally do not add a salad dressing to my salad because I am plain lazy to take my big blender out. If I had this on my counter I would not think twice of doing a salad dressing.
Jar and Base
The blender comes with a 14 oz (approx 414 ml) plastic blending jar. The plastic is BPA free. The good point is that you can use the jar as a portable travel cup. The jar comes with a drinking lid with spout. So you can sip your smoothie, shake or drink.
The lid is a push down lid, so you need to be careful and make sure it is even all around to avoid any spilling. A warning here, you will need t press hard to squeeze the lid on. Some people find it hard to do, but to avoid any leak the fitting needs to be tight
One of the accessories you could purchase is a black lid with a filler cap. You can purchase it from the manufacturer website at an additional price. But you need to be aware that the manufacturer will charge you shipping fees. You may be better off if you buy a new blender from amazon.com and combine it with other purchases to benefit from the free shipping. The filler-cap allows you to add food into the jar, whilst the blender is operating, without removing the entire lid,
Some consumers have experienced problems with the travel lid. The spout does not seal completely like in a normal blender, so the liquid can spill during the blending process.
The one drawback of the jar is that it does not have a handle, so there is a risk that you may drop it. That is not such a big issue. If you think about the take away coffee cups do not come with a handle. That does not stop people from buying take away coffees.
The jar comes with measuring lines in oz and ml. These can be used to freely mix your ingredients in the jar.
The jar twists and locks into the sturdy base, securing it for the blending process.
The jar is about 7 inches tall by 3.5 inches wide, so it is about the size of a large drinking mug. The jar is not insulated..
If you prefer you can purchase additional jars form the manufacturer site, or you can purchase a blender with two jars with travel lids. Check it out here . Unfortunately the two jar version only seems to come in white
Just one more point, the blades are permanently locked in the jar . Read more about the blades here.
Hamilton Beach Personal Blender 51101 Motor Power
This is a personal blender and as expected, the motor is not as powerful ones as the more expensive blenders. The motor is an efficient 175 watt.
To get the most of this blender it is best to use it as it was intended. Press the pulse button once and lift your finger, then press it again .Do not keep the finger on the button forever. If you do, you run the risk of burning the motor. In fact, I think this misunderstanding of the pulse button probably drives a portion of any of the online complaints regarding this blender. I'm guessing it's marked "pulse" for a reason. It's not intended to be held down. It operates more like a food processor in that respect rather than a blender. If you treat that pulse button carefully you'll be more satisfied with the performance of the blender.
About 15% of consumers that have provided a review have experienced problems with the motor smoking, or dying after a relatively short period of time. Again, I want to reinforce that the blender needs to be used properly. The motor is not powerful enough to press the button for long periods of time. Just use it in pulse mode. Also we need to consider what type of ingredients these people were trying to blend. Very hard and big pieces of ingredients will not go as easily as soft or liquids.
To conclude the power is powerful enough to blender soft ingredients, some frozen fruits vegetables and ice provided that there is liquid in the jar, and that the ingredients are fed slowly and in small pieces.
Thick ingredients like potatoes, meat, cheese and crackers are a NO for this unit.
The motor is relatively quiet
Blender Controls
The Hamilton Beach personal blender 51101 is so easy to use that it only needs one single button. It is a one-touch operation on/pulse button. Avoid keeping the finger on the pulse button continuously. Instead use it as a pulse button to prolong the life of the blender.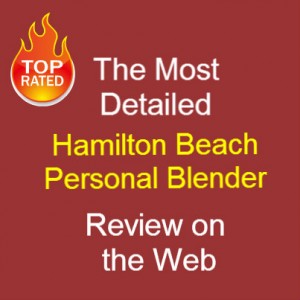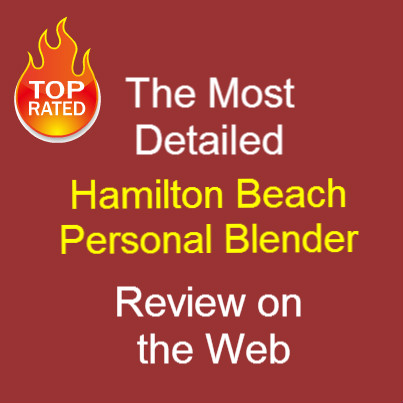 Hamilton Beach Personal Blender 51101 Blades
The unit comes with non-removable, durable stainless steel blades.
The blade is one blade assembly with four individual blades at different angles. The blender must not be used dry. It is recommended that you have at least eight ounces of liquid in the jar.
Because of the nature of this blender, the blades are small and short. Therefore, to get the best out of the blender feed the ingredients slowly. Do not add all ingredients all at once and expect it to work. You may also need to stop a couple of times and push the ingredient down or stir them to make the blending easier.
You need to remember that this is a personal blender, and it does not have the same power as the bigger and more expensive blenders.
Ease of cleaning
The manufacturer recommends unplugging the unit before cleaning it. The base and cord needs to be wiped out with a dump cloth. Do not put the base or cord in water.
The manufacturer does not indicate if the jar and lid are dishwasher safe. You may try to wash it in the dishwasher. Some consumer reviews said they have done it successfully.
The blades are locked permanently in the jar, so a concern could be how to clean the blades. Depending on the food you had in your blender, this can be easy or more difficult. I clean many times my big blender by adding a drop of dishwasher soap and some water and pressing the pulse button you clean all the residues from the bottom of the jar. In occasions I also add some white vinegar to the dish-washing liquid.
Attachments
The unit does not come with any extra attachments. The only attachment is the jar and travel lid.
You can get an extra travel lid or extra lid with filler cap or an extra jar from the manufacturer. Be aware you will need to pay shipping fees, so it might be more convenient to get a new blender.
You could also get the blender with 2 jars at a special rate from here
Dimensions and Storage
Height: 11.8 inches (approximately 29.97 cm)
Width: 3.94 inches (approximately 10 cm)
Depth: 3.94 inches (approximately 10 cm)
Weight: I could not find the exact weight, but it is between 1.5 pounds (680g) and 2 pounds (907 grams)
The cord is approximately 27 inches (68.58 cm). The power cord wraps around the base for easy storage.
The base is sturdy.
The unit being so small it is easy to store over the counter or in your kitchen cabinets.
Features
The unit is to be used with 120 volts – 60 Hz. If you are planning to travel overseas you might not be able to use this blender. The manufacturer advises against using a portable voltage converter to use unit with 220 volts. If you do, you run the risk of damaging the unit.
Please note that the warranty will be voided if you use the appliance with another voltage than the specified by the manufacturer.
Accessories
Replacement parts can be ordered from manufacturer website.
You could get an extra jar, extra travel lids, or a lid with filler cap, but you will need to pay shipping fees, so in the end it will not be worth it.
Pros
Simple and easy to use
One touch blending.
The pulse button allows you control over blending process. Start and stop whenever you want.
Very sturdy
BPA free in food zones (jar is BPA free)
Portable: Unit is small enough to take it wherever you go.
Jar can be used as a travel mug.
Wrap around cord for easy storage
Small enough to keep on counter or store in cabinet.
Easy and quick to operate, thus you will not think twice about using it
It blends frozen fruits and ice.
Great for blending soft ingredients or even liquids, like baby formula, or some special coffee.
Easy to Clean
Very affordable.
Cons
Motor is not powerful enough to blend dense ingredients like apples and carrots or hard ingredients.
It can only blend ice if you feed it slowly and in small pieces
Only blends wet ingredients, do not try to blend without liquid.
It may not finely process all greens.
It does not mash potatoes, mix dough or egg whites grind meat or extract juice from fruits and vegetables
Blades are permanently locked to the jar so it might be more difficult to clean
You might need to hold when blending as it vibrates
It does not blend as well as professional blenders
It emits a slight burning smell when it is in operation
The lid is not watertight and has a small air-hole. It may leak during the blending process.
The lid is not leak-proof so you might want to carry a plastic bag with you to store it for the ride home.
Hamilton Beach Personal Blender 51101 Price
The best part about the Hamilton Beach Personal Blender 51101 is the price. With a price of under $15 there is not much too think about purchasing it or not purchasing it.
I think the question is: are you going to use it or not? If you drink smoothies daily or you prepare baby formula, or baby food, or prepare your own salad dressings, or if you drink your own shakes, then this is a very handy blender to have.
If you are lazy about using your more expensive blender because you need to take it out the cupboard, or disassemble to wash it, or would o not have a blender, then there is no question that you will enjoy this one.
The price is under $15 for one jar with travel lid, but you can get the extra lid with filler cap for under $8 or an extra jar without lid for under $7.
You can also get one blender with two jars, both with travel lids for under $25. It depends on how often you are going to use it, and how you manage your dishes at home. I normally wash as I use, so I will have the jar ready to use. But if two people in your household would use the blender as a travel mug, then this is the deal for you. The blender with two jars comes only in white.
I forgot to mention that the Hamilton Beach Personal Blender 51101 is one of the bestsellers online.
Remember also that you only get what you paid for. Even though this blender has very good consumer reviews, you are basically only paying less than $15. SO do not expect it to perform like a $100 blender.
If you have made peace with that, then there is no major decision to make. You are not risking much buying this product.
Hamilton Beach Personal Blender 51101 Consumer Ratings
From the reviews I found in Amazon and Walmart, this product has a 4 star rating. 75% of the ratings were 4 and 5 stars. That tells you that people are happy with it. The point I want to stress is that you need to be aware that this blender is mostly for drinks and convenient for people on the move.
You need to consider your needs and what you get for such a low price.
My Overall Opinion
When I started this review I thought not many people would research this blender before buying it, after all it is only $15. I was surprised, many people actually do their research before purchasing this blender and that is why I decided to do this review. I could not find any other in detail review, so I hope this is helpful to you.
The Hamilton Beach Personal Blender 51101 comes in 4 colors on Amazon – black, white, red, green. The price is slightly higher for the red and green versions and cheapest for the black or white one.
If I had to buy a blender for daily use I would buy without thinking it twice. It is dirt cheap, so cheap that I could afford to chuck it away and buy a second one if I needed to.
You need to consider also how easily you get frustrated. One positive selling point of the blender is that is easy and quick to use. But quick is not always quick, if you know what I mean. It will not always be quick and fast if you have to stop the blending process to push the ingredients down. What comes to mind is when I went to visit my mom and used her old blender. Her blender was a brand one, but it was about 40 years old. I battled to make smoothies with frozen fruit. I got there in the end, but it was quite frustrating. I had to stop several times, stir the fruit, and add more water, until I got there.
If you follow the Whole Food plant based diet and do not drink many smoothies, or special coffees, and you do not have a baby to feed then I would probably skip this blender and go for something more powerful. I will let you know later what I find about other alternatives.
On the other hand, if you have a baby to feed, you drink protein shakes, iced coffee, or any other type of coffee, and you are always on the move, then I would go with this blender. The risk is very low.
The question is will you use it? It is convenient, easy to use, easy to store and easy to transport, so there is no really question. It all depends on what you are planning to do with it.